About UC
Crystalview® HD is a versatile Unified Communication (UC) platform designed to support multiple Video and Voice over IP (VVoIP) applications within a single hardware unit that shares components such as the codec, Full HD Pan-Tilt-Zoom (PTZ) camera, Acoustic Echo Cancellation and high gain boardroom microphone. The compatibility of our system makes it convenient and more economical as it negates the need for purchasing separate hardware units for each application. Our main goal is to provide our customers a highly beneficial video conferencing platform that requires less investment.
Unified Communication (UC) has enhanced the way people collaborate and interact with each other. UC solutions can be provided via public cloud, private cloud, on premise, or as a remote deployment or hybrid solution.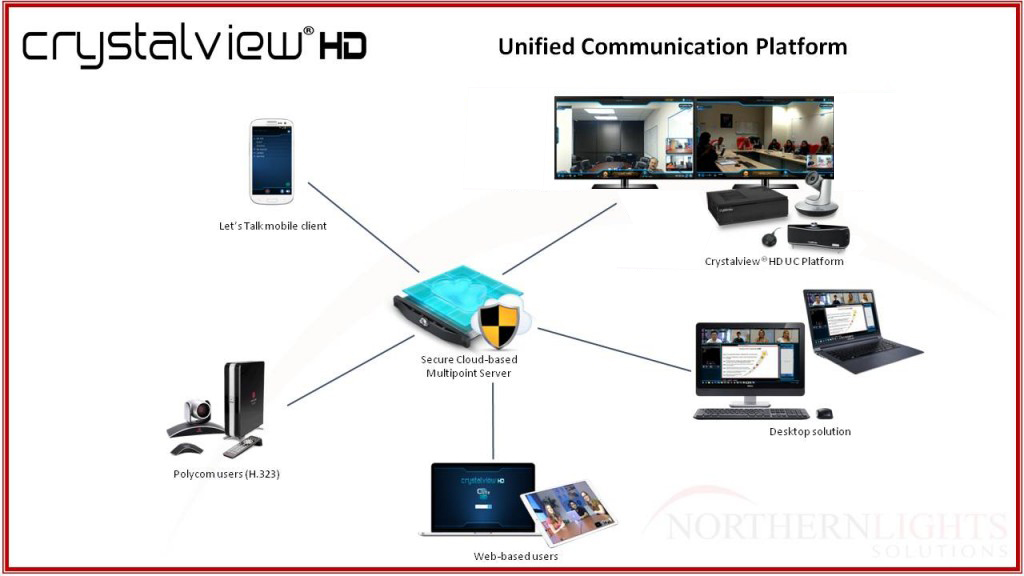 We have not one, but numerous flagship products, each being a technology innovator within its own space. The Crystalview® HD Unified Communication Platform's range of Endpoint units are the first and only ones in the world to provide a range of hardware platforms that will revolutionize boardroom based video conferencing. Hardware that is optimized to run True HD video conferencing, of not just our solution, but also solutions provided by others. Thus, within these hardware platforms sits the world's most common forms of Full HD Telepresence and video conferencing including Crystalview® HD client, Crystal-Lite HD, ITU Standard H.323 and Skype™. Such an integrated platform is important for today's boardrooms, for it is a difficult task for the System Administrator to keep changing hardware every time a different conferencing requirement is needed.
The Crystalview® HD Multipoint Server is an advanced integrated server hosted on cloud which provides both, an native Crystalview® HD server as well as a H.323 multipoint MCU. Again, this allows the system administrator the ability to be flexible in his video conferencing service offering to his organization. The NAT and firewall Traversal feature also allows users in most private networks to automatically receive audio and video without requiring changes to network configuration or settings.
Our innovative Distributed Entities Architecture and Multipoint to Multipoint Architecture allows functional components to be physically distributed while communicating with each other over standard IP networks. The underlying communications component uses an innovative Control Criterion called the RSW Control Criteria that assign users and network entities according to their roles in the conference. The Multipoint to multipoint capability allows servers to be cascaded, and the conference bandwidth between servers to be minimized. Thus technically allowing a conference to have an unlimited number of participants. Such innovation is important as ISPs tend to host large user servers and in distributed locations.