About Us
Our journey started as a collaboration of a scientific team participating in research work on the prototype for a videoconferencing system more than 20 years ago. Emeritus Professor Dr. Sureswaran Ramadass, has been the Chief Scientist responsible in moving the research, design and development of the product to where it is today. Our company, NorthernLights HD Videoconferencing was awarded with the Multimedia Super Corridor (MSC) status in 2012. The key focus of NorthernLights HD Videoconferencing is to create a superior Telepresence High Definition Solution that will provide the users with a video conferencing experience like none other. We have now achieved this with great success.
We are pioneers in the field of IP based Multimedia communications. Our work has changed and improved the landscape of the way multimedia communications is conducted. Presently, we are the only Videoconferencing technology that can move seamlessly from hardware based to web based.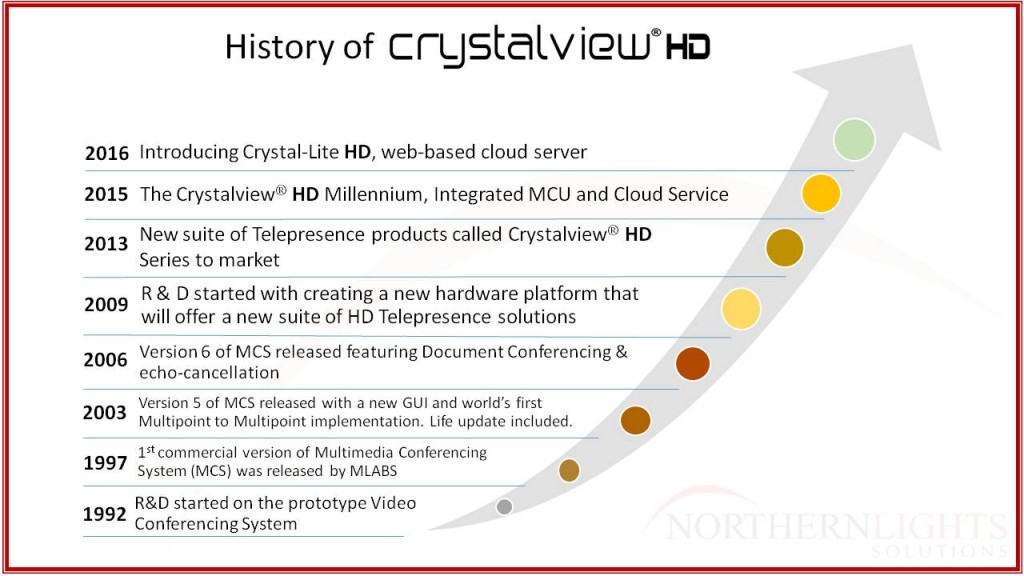 The company's mission is to provide high quality Unified Communication(UC) platform that is practical and beneficial to our customers. Customers who used our products have benefited from lower cost and product that is easier to use. At the same time, it reduced their travelling time, lowering the risk of environmental pollution by CO2 emission. The company's products are used by customers in many countries which include Malaysia, Singapore, India, China, Japan, USA, Myanmar, Vietnam and Thailand.
To meet the emerging demands of customers from different verticals, we have created a range of products such as CrystalView®HD and CLiteHD series with improved features. The Crystalview® HD Unified Communication platform's range of endpoint units are the first and only product in the world to provide a range of hardware platforms that will revolutionise boardroom based video conferencing. The hardwares are optimised to run true HD video conferencing on our solution and it can also be integrated with solutions provided by others. This include Crystalview® HD client, CLiteHD, ITU Standard H.323 and Skype™. These hardware platforms sits on the world's most common forms of Full HD Telepresence and video conferencing solutions.